Survey No. 5. "Evaluating the Paris Agreement"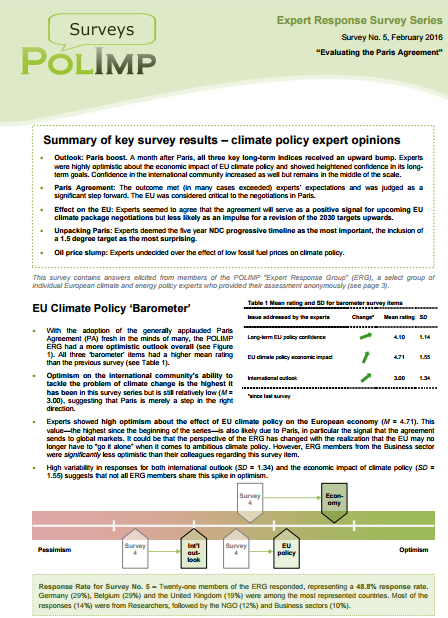 Survey No. 5 entitled, "Evaluating the Paris Agreement", asked the ERG to reflect on the outcome of last month's Climate Summit in Paris (COP21). Experts were asked their opinion of the final text and whether or not the agreement met their expectations going into COP21. Additionally, the experts provided an assessment of the EU's role in forging the landmark climate deal and remarked on the most critical elements included in the final agreement, noting which ones they found to be the most surprising.
Key insights include:
·       Outlook: Paris boost.A month after Paris, all three key long-term indices received an upward bump. Experts were highly optimistic about the economic impact of EU climate policy and showed heightened confidence in its long-term goals. Confidence in the international community increased as well but remains in the middle of the scale.
·      Paris Agreement: The outcome met (in many cases exceeded) experts' expectations and was judged as a significant step forward. The EU was considered critical to the negotiations in Paris.
·      Effect on the EU: Experts seemed to agree that the agreement will serve as a positive signal for upcoming EU climate package negotiations but less likely as an impulse for a revision of the 2030 targets upwards.
·       Unpacking Paris: Experts deemed the five year NDC progressive timeline as the most important, the inclusion of a 1.5 degree aim as the most surprising.
·       Oil price slump: Experts undecided over the effect of low fossil fuel prices on climate policy.
For a synopsis of survey results please download the full report